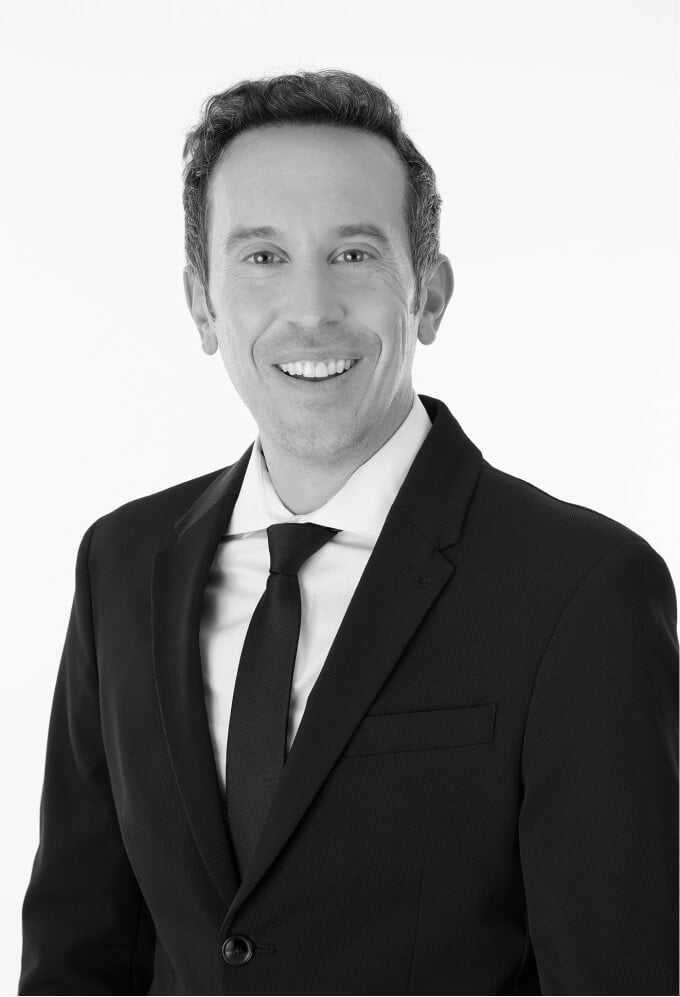 General dental surgeon
Dr Benoît Carrier
Dr. Benoît Carrier is a general dental surgeon. He holds a Doctor of Dental Medicine degree from the University of Montreal and a Master's degree with specialization in neuromuscular orthodontics and dentofacial orthopedics from the University of Jaume I. He also has a Master's degree in Dental Sciences from McGill University, focused on myofascial pain and temporomandibular disorders. Dr. Carrier graduated from the prestigious Las Vegas Institute for Advanced Dental Studies (LVI) in the fields of advanced dental aesthetics, comprehensive neuromuscular mouth rehabilitation, and neuromuscular orthodontics.
Dr. Carrier has been the owner of Centre Dentaire Repentigny since 1999, a well-established clinic offering state-of-the-art aesthetic and orthodontic care, founded in 1985. Since 2002, he has also practiced at Centre Dentaire Amari, where he provides orthodontic services. Committed to offering his patients cutting-edge technology, Dr. Carrier continually enhances his knowledge by attending advanced training programs in Canada and abroad (United States, France, Australia, etc.).
Notably, Dr. Carrier received the "Student of the Year" award from the American Academy of Periodontology. For his work in medical and dental research, Dr. Benoît Carrier is one of the few dental surgeons to have received grants from the Canadian Medical Research Council and the Quebec Health Research Fund.
About Dr. Carrier:
University of Montreal Doctor of Dental Medicine McGill University Master's degree in Dental Sciences: focused on myofascial pain and temporomandibular disorders University of Jaume I Master's degree in Dental Sciences with specialization in neuromuscular orthodontics and dentofacial orthopedics Las Vegas Institute for Advanced Dental Studies Advanced neuromuscular orthodontics and dental aesthetics
Dr. Carrier is an active member of:
International Association of Orthodontics (IAO) Academy of General Dentistry (AGD) Association des Chirurgiens-Dentistes du Québec (ACDQ) The International College of Cranio-Mandibular Orthopedics (ICCMO) American Academy of Dental Sleep Medicine
With his extensive knowledge in the dental field, he has published several articles in prestigious scientific journals, with the main focus on orthodontics and pain treatment:
Dissociation of sensory and affective dimensions of pain using hypnotic modulation (Rainville, P., Carrier, B., Hofbauer, R. K., Bushnell, M. C., & Duncan, G. H. (1999). Dissociation of sensory and affective dimensions of pain using hypnotic modulation. Pain, 82(2), 159-171.) Obstructive Sleep Apnea (OSA) – Review of Literature Pain perception: Is there a role for primary somatosensory cortex? (Bushnell, M. C., Duncan, G. H., Hofbauer, R. K., Ha, B., Chen, J. I., & Carrier, B. (1999). Pain perception: is there a role for primary somatosensory cortex?. Proceedings of the National Academy of Sciences, 96(14), 7705-7709.) Sleep Apnea Treatment with Rapid Maxillary Expansion in Adults and Children (Carrier, B. (2022). Sleep Apnea Treatment with Rapid Maxillary Expansion in Adults and Children-Review of Literature. EC Dental Science, 21, 03-24.) Pain Affect Encoded in Human Anterior Cingulate But Not Somatosensory Cortex (Rainville, P., Duncan, G. H., Price, D. D., Carrier, B., & Bush
Back to our team